Washington!!
Lots of big news in E land!! Last Sunday I flew out to Seattle to surprise my bf Linhart (
~
Cryosis
) He had absolutely no idea I was arriving earlier than anticipated (my move date wasn't until August 1st). Some friends of ours including
~
miss-elaineous
picked me up and I crashed at Elaine's for the night. Elaine called Linhart Monday morning saying she got a surprise for him in the mail needed him to come pick it up. I gave her a Canon Lens mug to give to him as the "surprise" and while he was oooing and ahhing over the awesome mug I walked in the room and surprised him. His face can be pretty much be summed up with

he looked absolutely perplexed. Needless to say he was super happy that I arrived early

dA Bday Bash!!!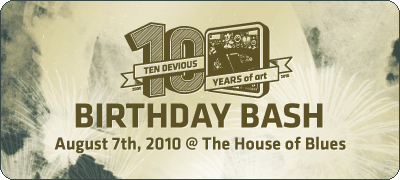 I'm extremely happy to announce that both Linhart and I will be attending the super awesome dA Bday Bash at the House of Blues

I'm looking forward to getting to hang out with all the deviants, some I've met before and others getting to meet for the first time

I'm also looking forward to checking out HQ I haven't been there since Dec 07 it's changed so much since then

should be good times! I'll also be bringing my ladybug with me
as well as my camera be on the lookout I'll be taking lots of photos and videos


EWM
It takes a lot of imagination to be a good photographer. In photography, everything can be so ordinary, it takes a lot of looking before you learn to see the extraordinary.
–David Bailey